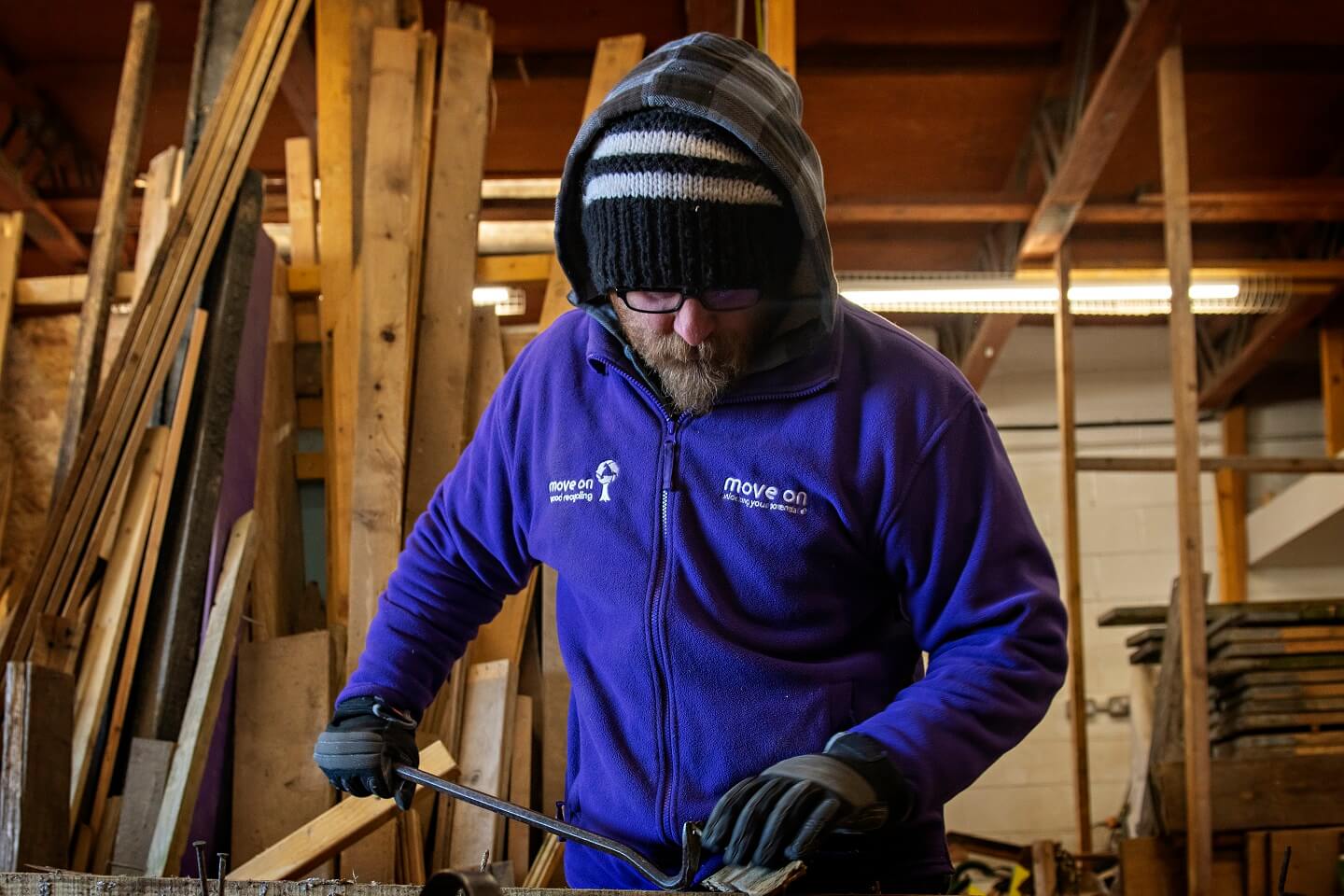 We have an exciting vacancy for an Operational Manager to lead our social enterprise in Edinburgh.
Key information
Job title: Operational Manager – Move On Wood Recycling (MOWR)
Salary: £29,379-£32,643
Hours: Full time
Location: MOWR, 3 New Broompark, Edinburgh, EH5 1RS
Closing date: Wednesday 15th September
Role
You will lead a small motivated staff team, ensuring that we grow the business, delivering excellent customer service. You will manage and motivate volunteers, and organise all the day to day activities of a busy and growing social enterprise. Working with colleagues from other Move On teams, you will manage trainees within a busy and fast-paced working environment and oversee the delivery of high quality work experience opportunities.
What we are looking for
We are looking for someone who is highly motivated, entrepreneurial, has excellent communication skills and who has strong business and operational skills and experience. A proven leader, you will also have a commitment to delivering a high-quality service in line with our mission and core values.
The role will provide a great opportunity to demonstrate your skills in managing and growing an exciting social enterprise, leading, working alongside and inspiring others to make a real contribution to the local community, circular economy and to local sustainability.
About us
We are a successful social enterprise established by charity Move On in early 2018, with both environmental and social aims, delivered through growing and developing a profitable business. These are:
to re-use waste timber, contributing to the circular economy and helping the environment through reducing the amount of timber sent to land fill or for chipping;
provide employability skills, training, valuable jobs and volunteering opportunities for vulnerable people.
We collect waste timber from the construction and events industries, as well as domestic settings. We re-use as much of this timber as possible, either selling on direct to the public, or through adding value by upcycling into furniture and other products. In the process of our day to day work, we offer volunteering and training opportunities.
As a social enterprise, we depends on generating income through trading to meet our costs.
We are a member of the UK-wide National Community Wood Recycling Project Network.
About Move On 
Move On's mission is to support vulnerable people to achieve personal goals and make positive lasting change in their lives. We offer a range of services, which meet the needs of our service users and volunteers, which are flexible and innovative, responding to changing needs and circumstances. Move On's services are delivered in a manner which are trauma informed/skilled, person-centred and asset-based. We are committed to supporting people where they need it, when they need it and for as long as they need it.
What we can offer you
We strive to ensure that Move On is a great place to work by supporting, developing and valuing our people. We offer:
Salary at Move On Grade 6 (£29,379-£32,643)
25 days annual leave and 9 public holidays for the first 2 years of service, increasing to 28 days and 9 public holidays after 3 years
Flexi-time
Option to buy additional annual leave
Opportunity for some home working
Ability to progress incrementally through salary band
Annual personal volunteering day
Strong focus on promoting staff health and wellbeing
Training allowance and commitment to CPD
TOIL system
How to apply
Please download the application pack and email completed applications to John Hinton (john@moveon.org.uk).
If you have any queries, or for an informal chat about the role, contact Jim Burns (jim@moveon.org.uk), 07855 756893, or John Hinton (john@moveon.org.uk, 07946 578515.
Closing date: Wednesday 15th September 2021
Interviews: Monday 20th September 2021
Job description and person specification
Equal opportunities monitoring form
Policy on recruitment of ex-offenders