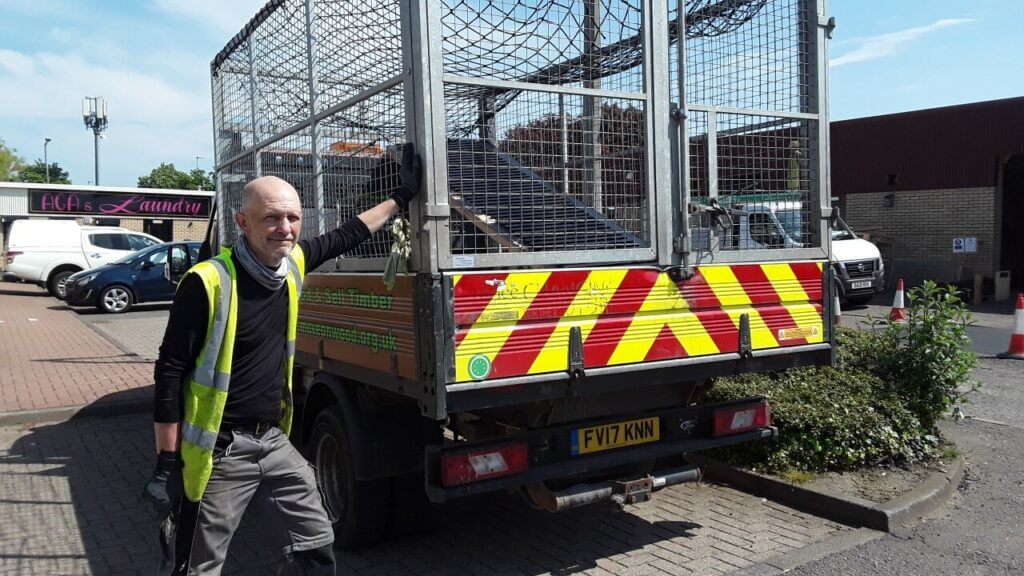 Van drivers wanted! Are you looking for a new opportunity to give back? Why not volunteer with us?
The MOWR model is simple but effective – if we do say so ourselves!
We collect waste wood from a range of different sites. We then re-sell it as quality reclaimed timber and upcycled wood products through our workshop and retail space in Granton, Edinburgh. Our business customers range from the smallest independent shops, right up to large construction sites. We also work within the arts, collecting from festivals, studios, and more!
We offer local businesses a way to dispose of their wood waste responsibly. Many of our smaller clients couldn't do this without us, due to their lack of recycling space and resources.
Our reclaimed wood is a brilliant alternative to virgin timber. It's cheaper, locally sourced, and has more character than mass-produced timber. It's not at all unusual to find pieces with a real story to them in our shop. This year alone, we've sold pieces from stage sets at the Leith Theatre, beams from the historic ship the MS Fingal, and spoil boards from a local design studio!
Impact
What's better, all of this has a real environmental impact. We're a proud member of Community Wood Recycling, a UK-wide network committed to responsibly recycling and re-using waste wood. By reducing the use of virgin timber – and the energy and pollution associated with processing, importing and distributing it – we reduce the unnecessary release of harmful CO2e into the air. Wood waste is also responsible for around 5% of UK landfill greenhouse gas emissions. In the last year alone, we collected 368 tonnes of waste wood. Had this been left to decay at landfill, almost 243 tonnes of harmful gases would have been released. We don't waste a single scrap of the wood we collect – if it's not sold as timber, it gets taken into our workshop, where our master woodworkers transform it into beautiful upcycled furniture!
MOWR also has a social impact! We offer volunteering and training opportunities for people with a variety of support needs. This includes training programmes for disadvantaged young people, and volunteer placements for people with learning disabilities. We offer around 30 to 40 people each year a supportive environment in which to develop their skills and confidence.
Volunteers
Sounds good, right? How do you fancy getting involved?
Because the thing is, we can't achieve this kind of impact without a strong team behind us. With so much going on, we're constantly looking for new volunteers. Right now, we're in urgent need of some new van drivers!
Our volunteers are at the heart of everything we do at MOWR, from the help they offer to our day-to-day operations, to the contributions they make to our community. MOWR van drivers are a huge help as they both bring in the reclaimed timber, and drop off our brilliant products to the local community!
Our drivers are constantly up, about and moving – you'll be kept on your toes during a day with us! Staying active in this way can help keep you physically healthy, and improve your mental wellbeing. There's also always plenty going on, so you'll have the opportunity to help out with tasks such as talking to customers, de-nailing timber or making upcycled products in the workshop if you'd like! You'll also meet loads of new people. Our staff, trainees and volunteers are all dedicated to providing a supportive and fun working environment.

What You'll Need
It doesn't take much to get involved at MOWR. We open 7 days a week – 9am-4.30pm Monday to Friday, and 10am-5pm at the weekends. We need help every day, so whatever your availability, you can make a difference. Whether you can commit to a couple of days per week, or even just the odd hour here and there, we want to hear from you!
We welcome people from all backgrounds, and provide full training and support. You don't need previous workshop or recycling experience, just a desire to help and a willingness to learn.
Our drivers must be at least 25 years of age, and hold a full, clean UK driving licence. We use a 3.5 tonne caged pick-up truck, so you'll need a valid licence, and experience of driving a similar vehicle in a safe, courteous manner. You'll also need to be physically capable, as some heavy lifting will be involved.
Most importantly though, we hope for our volunteers to be team players who share our values. A strong sense of community and communication is so important for helping you get into the MOWR spirit of things. All Move On sites embrace a shared ethos of equality and diversity. Volunteering with us means meeting people from all walks of life, so you'll need to be comfortable forming new relationships with anyone who comes through our doors. Our volunteers are so important to what we do, and we want you to really feel a part of it!
How To Apply
If this sounds like the volunteering opportunity for you, please email the MOWR team on wood@moveon.org.uk with your availability.
More Information
For further information please contact the team on wood@moveon.org.uk, or 0131 551 6937.
We also share all vacancies and opportunities, as well as good news stories, on our Facebook, Twitter and Move On LinkedIn pages. If you'd prefer this direct to your inbox, you can also sign up to our new monthly e-newsletter.